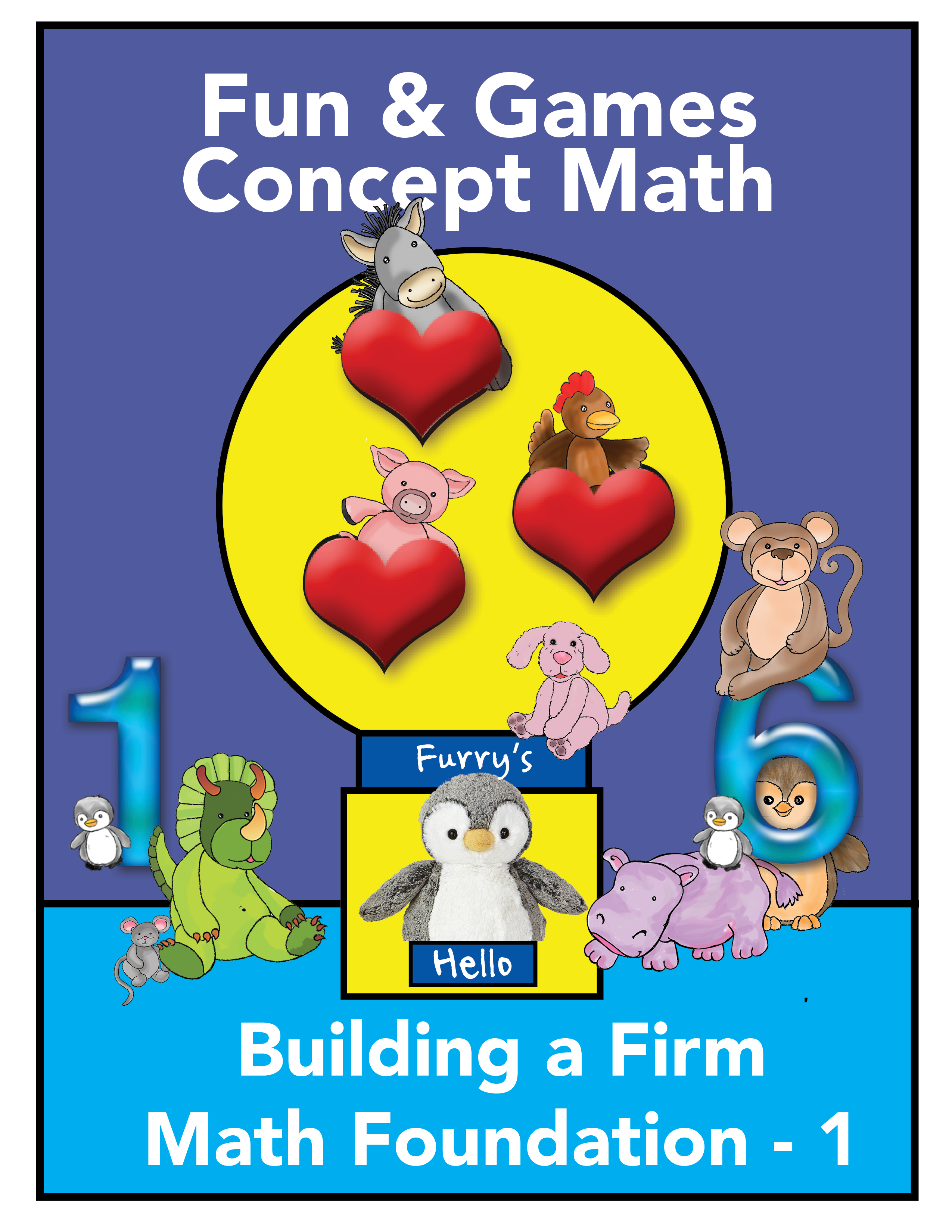 by Marcia Chambers
Welcome to Fun and Games Concept Math – Book One. It is my intent to share what I have gathered from a myriad of resources, first and foremost, the Kindergarten professionals in my school district, Mac Y., the child that showed me that my toolbox always needed more ways to approach how children with challenges learn, Carrie Ingebritsen, his paraprofessional who was ready to switch, swap, modify, alter, at a moment's notice.
There were plenty of instructions and teacher manuals for the one instructor and 16 students that ranged in the beginning to advanced stages for number sense, but what about the youngsters that struggled to comprehend the language of mathematics? How can we reach these children? Where was the manual for the one or two whose brains were not connecting values, patterns, or strategy? Who had those tools?
This book is not the end-all but merely the beginning of recognizing the basics of learning using our senses, plus lots of movement and inclusion activities. The S.M.A.R.T. program is a Minnesota-born initiative that promotes various movements and motions to create pathways of relationships from the body to the brain. Thank you, Dr. Lyelle Palmer, for your valuable input on this book. I loved watching my students become engaged and looking forward to the next station!
If you have purchased the book we offer our FUN & GAMES MATH 1-6 empowerment sheets to print out as needed so you will not need to CUT UP your curriculum – ENJOY! We recommend you buy the curriculum because it will explain how to GET THE MOST support, fun, and ideas for your child.
Thank you, Jodee Kulp, inspiration and cheerleader for me to continue my research, planning, and organizing after we both enjoyed the initial curriculum writing with Ann Yurcek, the author of Furry, The Little Penguins That Could. Yes, we can! Jodee is present on every page with uplifting illustrations, ideas, and examples of personal life strategies with her own family.
Additional beginning strategies are in the works for numbers beyond Five Plus One More! Look for one on teen numbers and another 20 and beyond!
Patience and humor go a long way. There is no rush. Enjoy!
Marcia Chambers
FUN AND GAMES MATH 1-6 EMPOWERMENT SHEETS (Right mouse click to save image to use with your child – note the curriculum is VITAL is making this a developmental program)