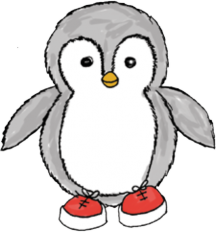 Hello, my name is Furry
Friendship, Ability and Inclusion is what I am about and I am so glad you joined us.
I work with Ann and Jodee, who are Just Two Moms who believe in Children, Stuffies, and love. We also believe that with understanding and of course whole bunches of FUN many impossibles may become possible.
I live in the Little Town That Would and went to The Little School That Could with my best friend, Mac, and a whole bunch of Littles, Stuffies, and Snack. Snack is my cousin. We all graduated from the Penguin Kindergarten Classroom and have continued on in our lives growing and learning.

Our year in Kindergarten taught us many important things.  Mac and I and the Mom's look forward to sharing ideas and activities for learning in fun and creative ways.
If your have read my new book you will learn all the adventures I have been a part of with my best friend, Mac, and all my other Stuffie friends. I have LOTS of friends. Do you have friends. I became more than just a friend with

I even have my own Facebook page where we let kids share their adventures with their own Stuffies. I keep the door closed so that it stays safe for kids.
If you are interested in joining us, just write my mom – [email protected] and if you love Stuffies, she will let you come in.
If you want your own Furry Stuffie or Furry: The Little Penguins That Could Book visit the Penguin Shoppe.