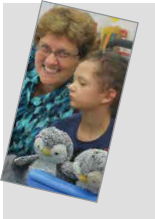 Our work, or perhaps I should say "FUN" at Furry The Penguin, all started because of a little boy name Mac. He is a fine boy with many, many challenges.  At six-years-old he joined the Penguin Kindergarten Classroom. With the gifts of love and time from many people if made this story possible.
It is a true story. Do Stuffies really talk? Well, maybe in Kindergarten, so it might not all be real at least to adults. Together, we learned about the importance of  Stuffun La Muffins. In Kindergarten we learned the acceptance of differences and that everyone needs a friend.

Thank you from Mac, the Stuffies, and Teacher in the Little School That Could, in the Little Town That Would.
Furry: The Little Penguins that Could is written by two moms who did – Believe in Friendship, Ability and Inclusion. If we teach Acceptance and Kindness in kindergarten, maybe we can stop Bullying and that Everyone Matters.
Meet the Moms

Ann Yurcek, is the mom of 12 children, 6 with special needs and Nana of 6 more. She is an international and national advocate, award winning author and researcher. Ann looks at adversity as a gift and opportunity to discover new learning. Ann is the author of Furry. She runs the support group Parenting FASD Kids on Facebook (Read More)

Jodee Kulp, has enjoyed the role as foster mom, adoptive mom and host mom to 17 children.  She is an author and illustrator and currently working with individuals with neurodiversity in her Expanding Mindz with Canine program using dogs as emotional support partners to build executive function skills. Jodee is the artist of Furry. (Read More)