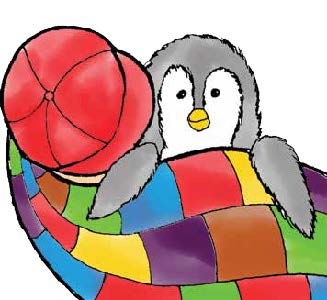 Furry uses Stuffies as bridges
to help remember new learning
Furry encourages Stuffie Study Buddies
A Stuffie becomes the connection in the non-training settings and an educational Emotional Support Partner. Some children may work hard to learn something at home or school and they are incapable of using that new learning in another location. Generalization refers to the transfer of what is learned in one setting to another setting without explicit teaching in the second transfer setting. A Stuffie with a light scent (essential oil) that appeals to the child can become a bridge "common stimuli" between classrooms, or home and school to help connect to new learning.
Reading Furry – The Little Penguins That Could allows all children to interact:
For the word "I" non-verbal children can use a chosen movement to indicate "I" (blink, sound, or tap body).
For "penguin" all children flap their little wings or ASL sign penguin. Verbal children can say the word, sign, and/or flap. In this process, all children will be moving together creating acceptance for children who may not have more refined motor development.
Each chapter lesson builds on learning through friendships, fun, and laughing together!
Furry uses Stuffies to play and to learn!
Furry loves to play "Red Light, Green Light"
Grab a Stuffie and Ready, Set, Go for a game of Red Light Green Light. Partner participation, movement and laughter go along with two words "go" and "stop". Over time, Furry adds "Yellow Light", "Yield", or "Slow" with children as they practice using listening ears, watchful eyes, or supporting peers in play as they learn the words.
While playing Red Light Green Light Furry introduces:
– Street traffic signs and lights.
– American Sign Language.
– ACC Picture words
– Braille dots
30 chapters of FUN FREE curriculum progress.
Furry encourages Stuffie Study Buddies – SIGN UP TO GET OUR FREE CURRICULUM